What do Porcelain Crowns Do?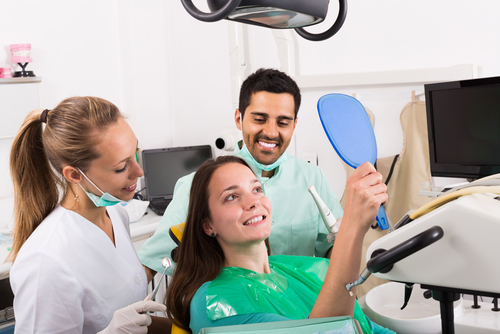 To conceal cracked, chipped, injured, or bad discolored teeth, we fit dental crowns over your teeth. These are natural-looking covers, also called caps. Dental crowns used to require a metal substructure but now, all-porcelain crowns are available thanks to today's technology! Porcelain crowns are very attractive and the procedure is simple and straight forward.
We provide a pleasant dental experience for dental crowns and all of our procedures. Dr. John Castellano, Dr. Rebecca Benedict, the Westchase Premier Dental team and staff members are friendly and highly trusted.
Old PFM'S To New All Ceramic Crowns
Our office is also offering treatment for people that have old "porcelain-fused-to-metal" crowns (PFM). We can now help you transition from an older crown structure to our new all-porcelain crowns. Give us a call and see if this procedure is this right fit for your smile!
Dental Care Pricing Options
We are currently offering Non-Insured Cash Prices with discount codes. Most insured patients enjoy our services for free. You can call us today to for an appointment or for your FREE Second Opinion/Consultation:
Cleaning, Polishing & Exam – $95 Regular value of $207 includes necessary x-rays (1110, 0274, 0150)
Emergency Exam – $80 Regular value of $116 (0140, 0220)
Children's Exam & Cleaning – $99 Regular value of $214 includes necessary x-rays & fluoride treatment (0150, 1120, 0272, 1208).
We have a friendly and welcoming staff with a comfortable office atmosphere. Enjoy a pleasant dental experience along with the many conveniences provided by Dr. John Castellano, Dr. Rebecca Benedict and the Westchase Premier Dental team.